For Established Publishers
Data Submission
Merchandising
For New Publishers
Establish a Relationship (Calendars)


For further information about establishing a vendor account with Baker & Taylor, please contact pubsvc@baker-taylor.com.


New to the publishing business? The IBPA (Independent Book Publishers Association) is a recommended resource. Membership in that organization provides a variety of educational and marketing opportunities.
Miscellaneous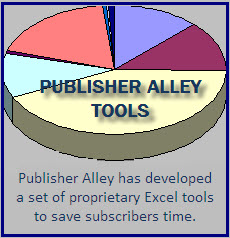 Publisher Alley subscribers: Have you seen the new Excel tools?
Learn more by clicking the image at left.
Key Staff Listing
Publisher Contacts throughout B&T.
EDI Resources
>> EDI Guidelines: for publishers managing their own EDI system.
>> SPS Commerce: demo from outsourced supplier of EDI capability. The username for the demo is btvendor, and the password is spscommerce. Email SPS.
>> All Publishers: For general EDI questions, contact the B&T EDI team.